Second Chance Cabbage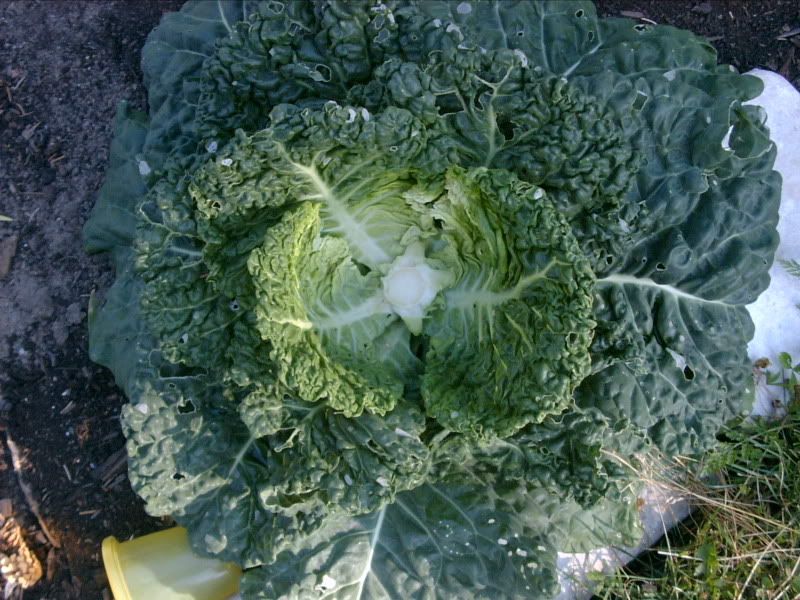 Savoy Cabbage harvested
Where once there was a delicious young savoy head, now there is nothing but an empty middle. But don't worry, the cabbage plant has not given up yet. It may yet produce a second crop of smaller, more bite sized heads. Here's how. Cut the cabbage head off the leafy base. This next step is optional but some suggest then making a cross in the stem bit that's left. I discovered that this really does work accidentally one year when I was lazy about removing the old cabbages... Apparently, the cabbages will form loose mini-heads between the leaf axils.
This works best with shorter season cabbage, by the way, though mine were long season cabbage which sprouted in the '
spaceship
' greenhouse.
Bountiful Broccoli
Broccoli is also well known for its ability to re-bud. Some broccoli varieties are called sprouting and form an initial head of varying size which when harvested is followed by a succession of smaller heads. However, most regular broccoli will also do this. If you want a steady crop of mini-broccolis forming at the leaf axils, then look for this quality when buying seed.
Tasty Kholrabi heads and tails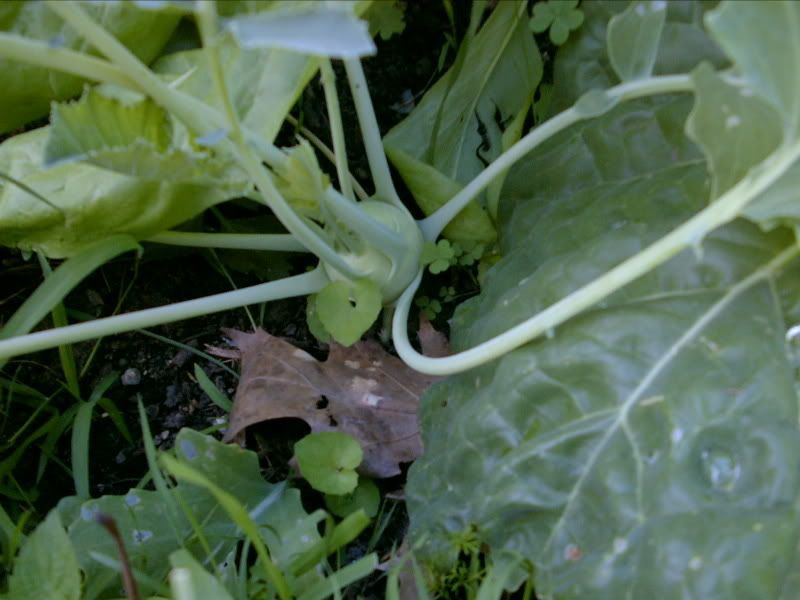 Half-grown kholrabi
When harvesting my kholrabi, I asked myself, can I eat the leaves? Maybe I was hungry, maybe I just hate wasting something edible. Anyhow, the answer is 'yes'. I cook them rather like collards. In fact this goes for all the members of the vegetable brassica family that I have looked up so far. Apparently the younger leaves are less tough and sweeter. Frost will also improve their flavour. So after you yank the plant, why not cook yourself up a plate of greens?
Links:
http://www.garden.org/foodguide/browse/veggie/broccoli_harvesting/599
http://www.bonnieplants.com/Default.aspx?tabid=325